The Tapering
I started tapering about a week and a half before race day. It's not my favorite time. I guess a lot of people are happy to relax, but I felt lost. I just wanted to burn miles. It worked out in a way since the whole area has been under air quality alerts. I hit the treadmill for 2 runs because the level was too high. My tapering consisted of running every other day instead of 5 to 6 days per week with the last few runs at reduced speed and reduced distances, and a 10-mile run at a zone 2 pace in between. I stopped all muscle training during this time.
I prioritized sleep and nutrition more than training. I tried my best to get a full 8 hours every night. I started fasting in the afternoons to allow my body to completely digest everything before bed. I kept myself hydrated and avoided going outside in the bad air quality as much as possible. I only had one incident where I ordered a latte in the afternoon and it wrecked my stomach and interrupted my sleep, but luckily that was still a few days out.
Race Day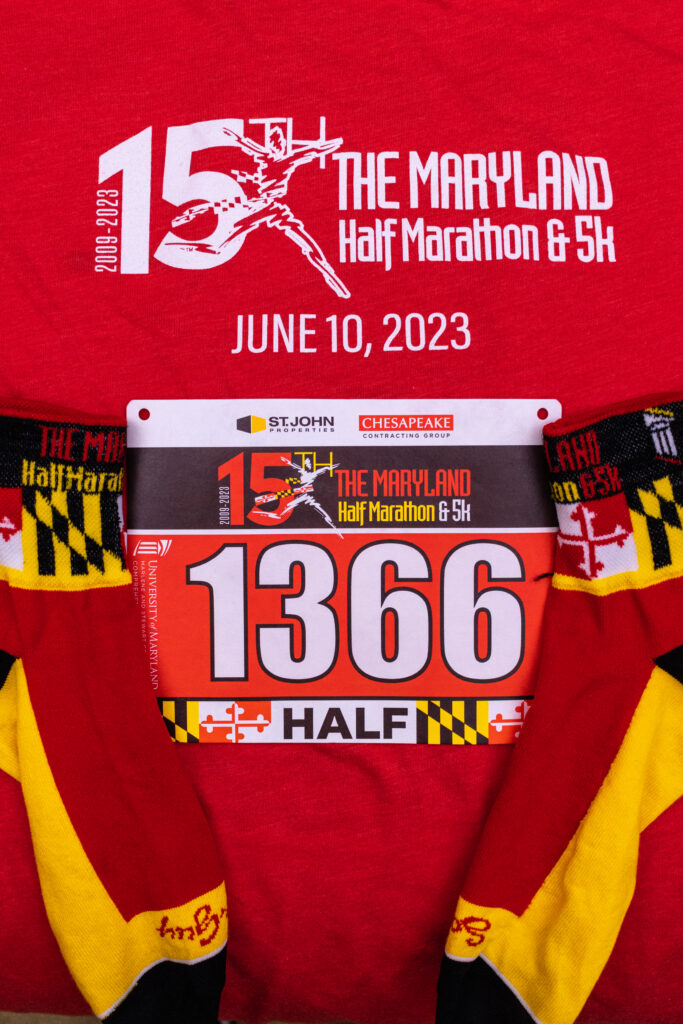 I slept great the night before, woke up on time, and got right to business with my electrolyte solution. I had all my gear together the night before, so all I had to do was get dressed and head to the event. I found a good parking spot and started eating some crackers with peanut butter while I sipped water.
I was a little self-conscious about running shirtless. The 10k I previously ran was on a much colder morning, so it wasn't warranted, but it was already 65 degrees out and only getting hotter, so I knew I'd want to go without. I believe the air-cooling effects alone are worth it, but more importantly, it helps prevent chafing and saves my nipples from getting destroyed.
About 20 minutes before start time I walked to my car and ditched my shirt. I popped in my headphones and hit shuffle on my playlist. The music helped me go into a sort of tunnel vision. I forgot about being self-conscious, anxious, or anything other than feeling ready to run. I walked to the starting area and found a good spot close to the front.
Take To The Hills
The Maryland Half Marathon is not flat by any stretch. It started with hills and ended with hills. I was not prepared for that. My training route is no easy circuit, but this was just mean. I started the first 3 miles at a 6:30 pace and kept it under 7:30 until the last mile. My average pace for the run was 7:02 and I beat my record by 5 minutes with a finish time of 1 hour and 32 minutes.
The last mile was possibly the toughest I've ever run. I was completely out of breath. The thought of walking crept into my head but I refused to get that far and not push through. The last stretch took you through a roundabout and sent you right back in the direction you came from. Right back into an uphill battle through the last quarter-mile. The finish never looked sweeter.
My wife and kid were right there to cheer me through the finish line and I was greeted by a volunteer with a cold wet rag, a medal, and a bottle of water. I tried to talk but, could only gasp for air. I headed toward the port-o-pots and threw up twice. It took me about 15 minutes to gain my composure. Quickly, I went from feeling awful to feeling on top of the world.
The Numbers
In the end, I finished 22nd overall and 6th for my age group, beat my record by 5 minutes, and ran a route I never would have. I completed my goals and followed my plan. I ran 13.1 miles at a 7:02 pace, never stopped, and finished in 1 hour and 32 minutes. 1 year ago I was overweight, unhealthy, and could barely run a mile. Now I'm out here running half marathons for fun. Insert a cliché motivational quote or something here.
I've now been on the longest rest period in a while. My legs aren't too sore, but my feet are wrecked. Calloused, swollen, and bruised, to say the least. I'm now tracking the time it takes me to get back on the road, but at least I can hit the gym and hurt some other muscles until then.